Hit Parade 1-50
Hit Parade 51-100
Hit Parade 101-150
Hit Parade 151-200

Performers Database

What's new
Medley Midi

Disco Bands

70's Charts

Disco Gifs

Links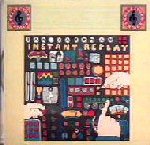 Instant Replay by Dan Hartman - 1978 -on CD Dan Hartman Istant Replay (Sony 1978
or on 45 Epic EPc 6706
Born 4 November 1951, Harrisburg, Pennsylvania, USA, d. 22 March 1994, Westport, Connecticut, USA. Hartman's multi-instrumental talents and light tenor were first heard by North America at large when he served bands led, together and separately, by Johnny Winter and Edgar Winter. Employment by the latter from 1973-77 brought the greatest commercial rewards - principally via Hartman's co-writing all selections on the Edgar Winter Group's They Only Come Out At Night,which contained the million-selling single, 'Frankenstein'. He was also in demand as a session player by artists including Todd Rundgren, Ian Hunter, Rick Derringer, Stevie Wonder and Ronnie Montrose. Riding the disco bandwagon, Hartman next enjoyed international success with the title track to Instant Replay and another of its singles, 'This Is It' (both of which were among the first records to be released on 12-inch vinyl).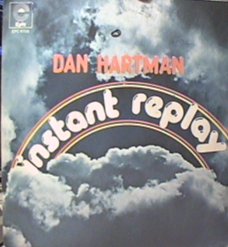 However, after the relative failure of Relight My Fire in 1979, he retired from stage centre to concentrate on production commissions - some carried out in his own studio, the Schoolhouse, in Westport, Connecticut. Among his production and songwriting clients were the Average White Band, Neil Sedaka, .38 Special, James Brown (notably with the 1986 hit 'Living In America'), Muddy Waters, Diana Ross, Chaka Khan and Hilly Michaels. In 1985 he returned to the US Top 10 with the soul concoction, 'I Can Dream About You' (for the Streets Of Fire film soundtrack) which he followed with two lesser hits prior to another withdrawal to the sidelines of pop. Having been diagnosed HIV Positive, his last major production projects included tracks for Holly Johnson and Tina Turner 's hugely successful Foreign Affair set. He died from AIDS-related complications in 1994, just as his career was being reappraised (his material was much sampled by dance bands, notably Black Box on their huge hit 'Ride On Time', while Take That took his 'Relight My Fire' to the UK number 1 spot).

SUGGESTED DISCOGRAPHY
| | |
| --- | --- |
| | Instant Replay (Blue Sky LP, 1979) |
| | Relight my fire (Blue Sky LP, 1979) |
| | |
| --- | --- |
| | Instant replay (Blue Sky, 1978) |
| | This is it (Blue Sky, 1979) |
| | Time and space (Blue Sky, 1979) |
| | Boogie all summer (Blue Sky, 1979) |
| | Hands down (Blue Sky, 1979) |
| | Relight my fire (Blue Sky, 1980) |
| | Free ride (Blue Sky, 1980) |