Hit Parade 1-50
Hit Parade 51-100
Hit Parade 101-150
Hit Parade 151-200

Performers Database

What's new
Medley Midi

Disco Bands

70's Charts

Disco Gifs

Links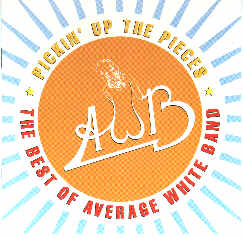 Six shaggy-haired white guys from Scotland wearing platform shoes "What's this doing in the Soul section?" That's what sprang to the minds of many Americans, especially African-Americans" when they checked out the photograph on the back of the Average White Band's (AWB) eponymous U S debut album in 1974. Any suspicions of inadequacy were quashed once people heard the airtight grooves and vocal work inside AWB's raw" punchy sound was a slow-cooked" fortified mixture of the best that black American music had to offer "We wanted to be the Spinners" but play instruments at the same time"' co-founder Alan Gorrie relates .We'd all been in cover bandsand we looked at AWB as our passport to full artistic freedom We were lucky to be six guys who all heard the same soulful things in our heads " Those six musicians were Alan Gorrie (tenor vocals" bass and occasional guitar): Hamish Stuart (tenor/falsetto vocals guitar and occasional bass): Onnie Mclntyre (guitar backinl Malcolm "Molly" Ouncan (tenor sax); and Robbie Mclntosh (drums and percussion) Though Alan had wanted to put an original R&B ban together since the late "60s" AWB was formed in 1971 in London" where he and Malcolm were residing as roommate.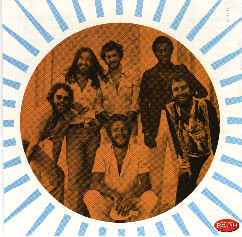 Malcolm had been in art school with Roger where they spent spare hours playing Coltrane and Cannonball in campus jazz bands. Onnie was an old bandmate from Glasgow with solid lead and rhythm guitar chops, and the group originally began with trumpeter Michael Rosen They had to wait for the drummer of their choice, though Robbie Mclntosh, ironically the youngest member of AWB, was already a much-in demand tour musician for visiting soul greats like Ben E King and Garnett Mimms whom Robbie's band, Senate, backed on a live album) But once Alan and Robbie locked together as members of Brian Auger's Oblivion Express, they knew they would be playing together again
Following some early shows it became apparent that Rosen wasn't working out, which left the horns with the unique sound of just two saxes. It was also clear that AWB needed another lead vocalist to complement Alan's voice Alan championed Glasgow falsetto/tenor Hamish Stuart, despite some hesitation within the band Besides, Hamish also brought considerable guitar- and bass-playing skills to the table Jelling swiftly into a fine-tuned unit, AWB landed the choice warm-up slot for Eric Clapton's fabled comeback concerts at London's Rainbow Theater A record deal with MCA in England came next, resulting in AWB's 1973 debut LP, Show Your Hand The band's mastery of soul music stemmed from years of
absorbing the real deal from rare import singles and LPs Alan's studies at Motown house bassist James Jamerson,
Hamish and Onnie's respective strumming and picking cops from The JBs' Jimmy Nolan, Robbie's dead-on Bernard Purdie beats, and Roger and Malcolm's Stax-like horn riffs (filtered through the funk/jazz solo lines of Eddie Harris and Jr.
Walker) distilled into a powerful brew wIth its own indigenous authenticity. Though most of the members didn't have any
formal music training, they learned from the world's best teachers, and their doctorate was winning over demanding local soul fans who couldn't be pacified with fraIl imitations.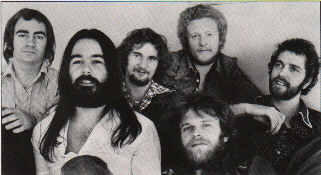 The name Average White Band was adopted from a mutual friend, Robert Wyper who used to describe people and places in his travels working for the British diplomatic service with sayings such as, "Uganda is just too hot for the average white man." Gorrie elaborates, "We couldn't think of a good name, so that one worked as a bit of a tongue-in-cheek joke, because we were anything but an average white band " Though the first album failed to generate any U S. hits, AWB was developing a cult following in L A through gigs at the Whisky A Go-Go But the brass at MCA's country & western-steeped American division dumped AWB from the roster after hearing demos for their proposed second album with a terse "You boys are way off target!" Gorrie recollects, "We were stuck in L A with barely the price of one plane ticket between us, so we got MCA to give us our last demos back. Clapton's road manager Bruce McCaskil1 tipped us off that Jerry Wexler lAtlantic Records A&R giant) was going to be at a dinner party out here. Being the ballsy Scots that we were, we gate-crashed the thing and made him listen to our rough tapes!"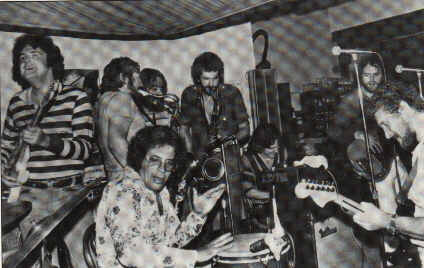 A deal was cut, and the seriousness behind it was clear when Arif Mardin was brought in as producer for one week of re-recording at Criteria Studios in North Miami and two weeks at Atlantic Studios in New York "When we arrived at Criteria," Duncan remembers, "" Aretha Franklin was in there cutting a track" and we all just about died!" Also at this time" the infamous AWB logo, with a naked woman"s backside shaping the W was created "'It started as a doodle of mine," says Gorrie" "that I envisioned in a two-color pixel dot style, I like the work of Roy Llchtenstein "", Tim Bruckner transformed it into the black-and-white design that is still used today The first single from AWB (The White Album) was the creamy", Philly Soul-like ballad ","Nothing You Can Do", but in late "74 while the band was out promoting the LP on the road (second billed to ian drummer/labelmate Billy Cobham)", the primarily instrumental track "Pick Up The Pieces",", was breaking out of secondary radio markets like Seattle Essentially a one-chord jam built on swinging alternating lines between the horns and guitars", '",Pieces"," became the song to blow your party whistle and do ""The Bump"" to down at the discotheque Ball recalls" ","Hamish had been playing the guitar lick over a groove at Clover studio in L A I wrote out a home part on manuscript paper We put them together", shoved the words "pick up the pieces" on the breakdown because they had a percussive effect", and Molly did the sax solo ",", Duncan adds", "I remember listening to the playback and thinking" "That sounded rather good", but they'll never release that as a single " that's why I'm not an A&R man!"," "Pick Up The Pieces"," went to #1 on the pop chart and #5 on the soul chart", was the group's first and only gold single in America" and was nominated for a "'Best R&B Instrumental"," Grammy but lost to "TSDP (The Sound Of Philadelphia)", by MFSB The record also spawned several popular LP cuts", and established AWB as an album-oriented band '-Got The Love was a funky midtempo one with snaky wah-wah guitar intrcate bottom and a jazzy bridge - a Ball trademark - that revealed a sophistication in aural texture matched in the period only by Steely Dan -Work To Dn",", was a favorite among the many Lesley Brothers songs the guys played back In Scotland Alan sang the verses", Hamish the chorus" and Dnnitook a rare guitar solo But it is on '-You Got It",", that we hear the differences Alan",s and Hamish's voices utilized to the maximum in a bri liant vocal arrangement. Alan asserts his tenor in the first path the verse" volleys with Hamish at the "Everything", anything", in the world",", line" then passes the ball to Hamish for a all-net swish of a bridge", concluded on the chorus with call-and-response and unison parts.
The most popular non-single from the album was "Person To Person",",' a hard-earned masterpiece culled lyrically from Hamish and Alan",s experiences as road warriors with lover waiting overseas It was just one of many such songs AWB would record Gorrie laments", "The trans-Atlantic phone ca is the worst communication you can have with your love one" especially if you're in L A and she's in the UK The difference is such that you're going to bed as they're getting up" or vice versa Hamish and I pounded out that song in the back room at Clover in about 25 minutes because we well both very familiar with the frustration of speaking into phone from which you're getting absolutely nothing ", "High on success" it was at a Hollywood party (for Greg Allman) after a week of dates at the Troubadour that AWB faced its darkest tragedy Mclntosh wine was spiked which you're getting absolutely nothing".

SUGGESTED DISCOGRAPHY
| | |
| --- | --- |
| | Pick up the pieces (Atlantic, 74) |
| | Cut the cake (Atlantic, 74) |