Hit Parade 1-50
Hit Parade 51-100
Hit Parade 101-150
Hit Parade 151-200

Performers Database

What's new
Medley Midi

Disco Bands

70's Charts

Disco Gifs

Links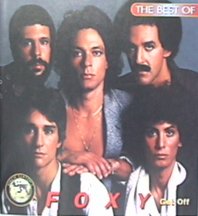 Get Off by Foxy 1978
- On CD The Best of Foxy T.K. Records HTCD 31-2 digitally mastered from the originalmaster tapes.
Good Miami based T.K. disco band. "Get off your ahhh and dance" is a brilliant disco song, wah-wah, flutes and all; guaranteed to get you on the floor. "Get off" (a different song) is a good, harsh disco song; one of the first records to incorporate that "boo boo" vocal sound characteristic of many 70's disco records (eg. "Let's all chant" (Michael Zager Band), "Party" (Leon Hayward) and "Keeep your body workin'" (Kleeer) ). "Hot numbers" is good, and reached the US charts. "Rrrrock" was #1 in the US dance charts.

SUGGESTED DISCOGRAPHY
| | |
| --- | --- |
| | Get off (Dash LP, 1978) |
| | Hot numbers (Dash LP, 1979) |
| | Party boys (Dash LP, 1980) |
| | |
| --- | --- |
| | Get off your ahhh and dance (part I) (Dash, 1976) |
| | Get off (Dash, 1978) |
| | Hot number (Dash, 1979) |
| | Head hunter (Dah, 1979) |
| | Rrrrock (Dash, 1980) |