Hit Parade 1-50
Hit Parade 51-100
Hit Parade 101-150
Hit Parade 151-200

Performers Database

What's new
Medley Midi

Disco Bands

70's Charts

Disco Gifs

Links

Too Tight & FFun by Con Funk Shun -1980 & 1977 -
On CD The Best of Con Funk Shun - 1993 Polygram Records. Really a funk essential with other great songs like Love's Train and Chase me. Too Tight was #8 in R&b and #40 in pop charts, while FFun was #1 in R&B and #23 in pop.

Con Funk Shun was formed in Menphis, TN in 1972 by high school classmates Michael Cooper and Louis "Tony" McCall. Other members included Karl Fuller, Paul "Maceo" Harrell, Dennis Johnson,Cedric Martin, and Danny "Sweet Man" Thomas; all of them had been playing togethersince their high school days in Vallejo, California. Felton Pilate, also from Vallejo, joined the group after the local rival band he was a member of disbanded.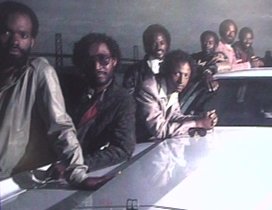 In the early '70s the group was a backup band for the Soul Children, going by the name of Project Soul. And when they weren't on the road with the Soul Children, they were
creatively working with various Stax staff writers. In the mid-'70s, Project Soul made an effort to become a headliner, but they met dead ends and little success. However, they found good fortune at Audio Dimensions, a Memphis recording studio owned by producer Ted Sturges. Sturges was so impressed by their sound that a union was formed between himself and the group. Teaming up with Sturges coincidentally brought about a name change. The group named itself after the title to one of their instrumental songs, "Con Funk Shun." During their three-year stint at Audio Dimensions, Sturges, besides owning the studio, was also Con Funk Shun's producer. Their association resulted in the group's first album, Organized Con Funk Shun, which translates to "organized confusion," since Con Funk Shun's meaning is just that.

Initially led by the vocals of Felton Pilate, Michael Cooper and Cedric Martin, the group diligently worked to develop its sound. As their sound developed, Pilate and Cooper emerged as the primary lead vocalists. Around the time their first album for Crankshaft Productions, Inc. was being recorded, the eighth member, Dennis Johnson, left the group to attend a seminary in California. (Johnson was Con Funk Shun's original Master of Ceremonies and head technician.)

After Con Funk Shun's association with Crankshaft Productions, Inc. ended, the group moved over to Mercury, where they remained for ten years. Their first hit for Mercury was "Ffun," written by Michael Cooper as a tribute to the R&B/funk band Brick. Con Funk Shun found much success at Mercury; for a ten-year span, they released one hit after another and were a popular concert attraction.

As much as Con Funk Shun was one of the premiere party-funk bands of its time, they were not as well known for their ballads and instrumental tracks. It was not until the early eighties that Con Funk Shun began receiving national notoriety for its ballads. Aside from being the primary musicians on all their albums, Con Funk Shun also contributed to each of their albums as writers, arrangers and/or producers. This was true for all their Mercury albums, except for Burnin' Love, which was their last for the label and the first album for which all of the material came from outside sources.
The septet's last album with Mercury was without their longtime musical center, Felton Pilate. Pilate was responsible for much of the production and songwriting; he departed the group in 1986 due to business differences with the record company and became a successful producer. Pilate eventually became the musical force behind MC Hammer, contributing his skills as producer, arranger, co-writer, engineer and vocalist. Melvin Carter, a frequent collaborator of Con Funk Shun, joined the group upon Pilate's exit. That same year Michael Cooper departed and emerged as a solo artist, continuing a tradition of chart-topping success.

Con Funk Shun disbanded after their last album with Mercury, but reunited in the '90s. They continue to perform at festivals and concerts around the world. ~ Craig Lytle, All Music Guide

SUGGESTED DISCOGRAPHY
| | |
| --- | --- |
| | Secrets (Mercury LP, 1977) |
| | Loveshine (Mercury LP, 1978) |
| | Candy (Mercury LP, 1979) |
| | Spirit of love (Mercury LP, 1980) |
| | Ffun (Mercury, 1978) |
| | Chase me (Mercury, 1979) |