Hit Parade 1-50
Hit Parade 51-100
Hit Parade 101-150
Hit Parade 151-200

Performers Database

What's new
Medley Midi

Disco Bands

70's Charts

Disco Gifs

Links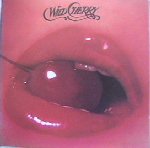 Play that funky music by Wild Cherry 1976 - On CD Wild Cherry (CBS/EPIC). By picking Wild Cherry, you listen to a sound destinated to become synonymous with dance. It's called "electrified funk" and it's guaranteed to move your "Soul" and your "Soles" (Bruno Bornino, Cleveland Press).
Wild Cherry's claim to fame was the US number 1 and UK Top 10 funky dance single, 'Play That Funky Music', in 1976 has probably outlived the name of its creators in the minds of most fans. Wild Cherry was a white quintet formed that year in Steubenville, Ohio, USA. Its original membership consisted of Bob Parissi (guitar/vocals) and other musicians although they never recorded; Parissi re-formed the group with new recruits Bryan Bassett (guitar), Allen Wentz (bass), Mark Avsec
(keyboards) and Ron Beitle (drums). The group took its name when Parissi, an accident victim laid-up in hospital, looked at a box of cherry-flavoured cough drops and liked what he saw. They recorded for a small record label owned by Terry Knight. The second line-up had the famous hit; signed to Epic Records, the group preferred hard rock but often played in discos where patrons would shout, 'Play that funky music, white boy'. Writing a song around that phrase, they took it to Cleveland record producer Carl Maduri and concert promoter Mike Belkin, who secured them a record deal.
The group charted with four subsequent singles but never came close to repeating the success of their 'funky' hit although the famous chant was used by white rapper, Vanilla Ice for his hit follow-up to'Ice Ice Baby'.

SUGGESTED DISCOGRAPHY
| | |
| --- | --- |
| | Electrified funk (Epic LP, 1976) |
| | Play that funky music (Epic, 1976) |