Hit Parade 1-50
Hit Parade 51-100
Hit Parade 101-150
Hit Parade 151-200

Performers Database

What's new
Medley Midi

Disco Bands

70's Charts

Disco Gifs

Links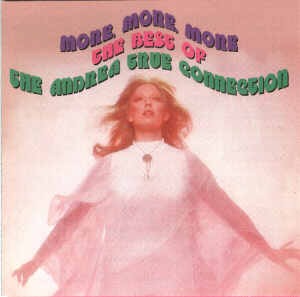 More More More is a classic from top to bottom really: Classic pop-funk beat classic lyrics classic attitude, classic top 10 hit - and a classic cast of characters The Connection as embodied in these massive disco-era successes was between Andrea True absolutely a self. made woman Gregg Diamond who launched a five-year hot streak in 1976 with the song and Tom Moulton, an objective ear who improved everything he touched as the inventor of the disco remix, And the allowing year Michael Zager, maker of some of the wildest disco records of the time In Let's All Chant produced Andrea's last charting single. Andrea True born and raised in Nashville, arrived in New York in 1968 to study acting. Thereafter, her life details in the public record become tantalizingly murky. As recounted in the few surviving sources of information True was an screen extra in movies like The Wav We and Forty Carats before embarking on a career in X-rated movies with 1978's Illusion of a Lady One Internet commentator's post notes her best adult-film performance as a bored wife in The Seduction of Lynn Carter f directed by Sam Weston brother of the late character actor Jack Weston.
As she reached her mid 30s (or "26 with a bullet as she put it in 1976 if True was getting no legitimate roles, and had failed to make money either in X-rated acting at $500 per film or by producing her own movie, Once Over Lightly, By other accounts, True was also writing commercials and singing in high dass restaurants like the Riverboat in Manhattan in the early decade, She traveled to Jamaica in 1975 to film a television ad for a local land developer and discovered that in the midst of the island's state of emergency she was forbidden to leave the country with her salary, Resourcefully True called on Gregg Diamond to come down to Jamaica with a music track so that, in effect, she could launder her money and transport it out of the country in the form of a master tape containing her first record Diamond, born outside of Philadelphia, in Bryn Pennsylvania had studied percussion and theory at Deckle School of Music, and had spent years on the road as a drummer for everyone from Joey Dee, to Jobriath, to James Drown, He'd only recently made the decision to leave the road, concentrate on his piano and start writing songs, when he cut a track in a studio owned by the son of Les Paul, with himself on piano and percussion, two of his show-band compatriots, Steve Love on guitar and Jim Gregory on bass, and his brother Godfrey on drums and engineering, The session cost $400 and was earmarked for a movie called The Elm Streets.
Never having heard Andrea sing, Diamond arrived in Jamaica with that multi-track tape and no lyrics, In an hour he wrote "More, Mare, Mare," and during the course of the next day, bumped into the entourage of calypso legend Mighty Sparrow in a hotel lobby, and recruited the horn section to come in for overdubs at Federal Studios in Kingston Dasic costs of the song ran a total of $1400. Diamond's lawyer arranged a deal with Duddah Records in New York, and Tom Moulton was commissioned to remix the track.
What emerged from the remix at Philadelphia's Sigma Sound Studio turned out to be one of disco's signature moments, The influence of Silver Convention and the earlier breathier Donna Summer is apparent in the overall production concept of the album, But the unmistakable New York funk is there, in its slow syncopation - claven, as percussionist Diamond puts it - its nasty, rock-hard bottom, and the rhythmic tension that Diamond points out as the critical element of any successful track, Moulton was unaware of Andrea's film career and wondered a bit about the lyric while developing the sonics and structure of the record: "it wouldn't have come out so pretty if I had known what it was about," is his wry comment now, (What also emerged from the Sigma session was another key connection between Gregg Diamond and first time session singer Luther Vandross, who was cutting background vocals for David Dowie's young Americans album down the hall Vandross' lead vocal performances on Diamond's albums, recorded with the same nucleus of musicians as these tracks, were undeniably the first stepping stones to his later success as the premier soul balladeer of our generation.
Moulton was looking forward to working on the rest of the album after helping to create such a defining pop moment Diamond wrote a series of songs that combined a sly but engagingly soft core sense of double entendre with eclectic funk, jazz and orchestral pop elements "Fill Me Up (Heart to Heart)" was written on a Fender Rhodes in New York's Gramercy Hotel in a state of deep love, Diamond notes; "So beautiful," Moulton quickly adds The song was even covered almost immediately in a French translation by West Coast disco producers Laurin Rinder and Michael Lewis on their studio-group St, Tropez project, In the end, with the pressure of getting an album out to chase the single, the entire project was remixed in just two days Shortly after the release of the album, More, More, More hit #1 in the Record World singles chart, after a week climb. (The song reached #4 on the Billboard chortle).
True's second and last Duddah album, White Witch, teamed her with Michael Zager, another rock bandleader who brought formidable song craft and arranging to dance music, "What's Your Name, What's Your Number," co-written by British pop hit machine Roger Cook ("Love Grows Where My Rosemary Goes) n.1 "My Baby Loves Lovin'n,' "I'd Like To Teach The world To Sing") was submitted to Zager by Cook's London-based music publisher.
Obviously, the More. More, More album is the artifact of a particular time and place, But it's also the opening shot of a producer who carried a heavy array of musical weaponry. The hectic, perhaps overbusy "N.Y., You Got Me Dancing" pointed the way toward the later creative fulfillment of Gregg Diamond's musicianship and writing, The gift of verbal and musical gab displayed in these tracks truly blossomed in the following years, with the stunningly accomplished Dionic Doogie and Starcruiser albums.

SUGGESTED DISCOGRAPHY
| | |
| --- | --- |
| | More, more, more (Buddah LP, 1976) |
| | What's your name, what's your number (Buddah LP, 1977) |
| | |
| --- | --- |
| | More, more, more (Buddah, 1976) |
| | Partyline (Buddah, 1976) |
| | What's your name, what's your number (Buddah, 1977) |
| | N.Y., you got me dancing (Buddah, 1977) |